TSI Poultry offers a variety of thermostat control options for commercial chicken house and poultry operations across the South. View our top selling thermostat controls below and request a quote.
EVENTHERM TH-4-20 Thermostat
The TH-4-20 thermostat is designed to provide precise control of heating, cooling, and ventilation systems. A stainless-steel sensing coil is mounted on the side of the weatherproof ABS plastic enclosure. The adjustable knob pointer allows the thermostat to be re-calibrated. This EVENTHERM TH-4-20 thermostat is resistant to moisture and gases found in corrosive agricultural buildings. The TH-4-20 will provide accurate temperature control with long life in livestock confinement buildings, greenhouses, warehouses, and industrial buildings.
Features of EVENTHERM TH-4-20 Thermostat
*Temperature Range: 40-104 F (+/- 4 F Differential)
*16 amp full load
*Controls up to 6 heaters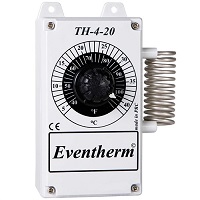 | TSI # | Description |
| --- | --- |
| TH-4-20 | Evertherm Thermostat |
---
Ranco ETC Thermostat Control
The Ranco ETC is a microprocessor-based family of electronic temperature controls, designed to provide on/off control for commercial heating, cooling, air conditioning and refrigeration. The ETC is equipped with a liquid crystal display (LCD) that provides a constant readout of the sensed temperature, and a touch keypad that allows the user to easily and accurately select the set point temperature, differential and heating/cooling mode of the operation. Models are available that operate on either line voltage (120/208/240 VAC) or low voltage (24VAC).
ETC-111000 Thermostat Control Features
Wide set-point temperature range (-30°F to 220°F) and differential adjustment (1°F to 30°F).
Simple keypad programming of set-point temperature, differential and cooling/heating modes.
LCD readout of sensor temperature, control settings, relay status and on board diagnostics.
Remote temperature sensing up to 400 feet.
SPDT output relay.
User-selectable Fahrenheit/Celsius scales.
Lockout switch to prevent tampering by unauthorized personnel.
Choice of line voltage and low voltage models available.
Optional 0 to 10 volt analog output available for remote temperature indication.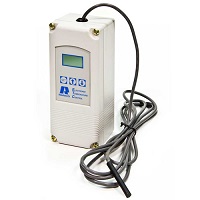 | TSI # | Description |
| --- | --- |
| ETC-111000 | Ranco Digital Temperature Control |
---
A19BAC-15C Single-Stage Thermostat
The single-stage A19BAC thermostat incorporates single pole double-throw switches for controlling automatic ventilation or heating in livestock barns, poultry houses, milk houses, brooder houses and other buildings. The 30 to 110°F (0 to 43°C) and 0 to 140 F (-15 to 60°C) temperature ranges permit use for many space applications.
A19BAC-15C Single-Stage Thermostat Features:
Liquid-filled sensing element provides uniform control at ambient temperatures not exceeding the range.
Dependable single-pole, double-throw snap acting contacts in dust-tight enclosure.
Close differential models available for critical requirements.
Adjustable cutout stop supplied as standard.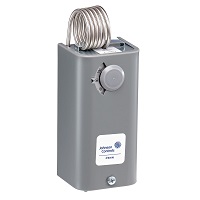 | TSI # | Description |
| --- | --- |
| A19BAC-15C | In Line Single Pole Double Throw Thermostat |
---
Peco TF115-001 Thermostat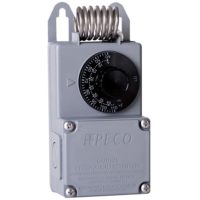 | TSI # | Description |
| --- | --- |
| TF115-001 | Nema 4X Line Volt Mechanical Thermostat |