The 36M201T is one of the Industry's smallest water meters, and provides ± 2% accuracy over a wide range of flows. Magnetically driven sealed register are stainless steel encapsulated and are guaranteed not to accumulate moisture or fog. Water Meters utilize the multi-jet principle assuring an equally distributed load on the impeller minimizing wear and maintaining accuracy. 36M201T Water Meters have only one moving part, the impeller, which is in contact with the water for minimum wear and the utmost reliability. These metors have a wide clearance in the measuring chamber which provides full pipe flow measurements and high reliability.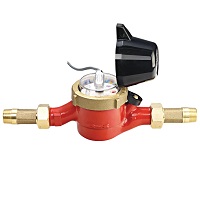 | TSI # | Description |
| --- | --- |
|  36M201T | 3/4″ 1.0 Gal. per Pulse Copper Alloy Water Meter |
---
The Series WMT2 Multi-Jet Water Meter is ideal for commercial and industrial applications. The multi-jet design allows simplicity and accuracy with wide flow ranges even in low flow applications. The meter is designed for long service life and relatively maintenance-free operation, even under adverse conditions. The magnetically driven, hermetically sealed register will not leak or fog and is completely separated from the water. The reed switch is activated by a magnet on the dial, which is directly proportional to the flow rate. The output is perfect for remote monitoring of flow rate or flow totalization, and can interface with PLC's, counters, data loggers, and SCADA systems.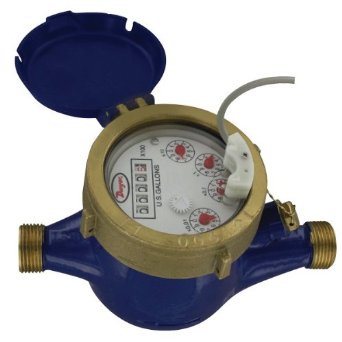 | TSI # | Description |
| --- | --- |
| WMT2-A-C-02-1 | 5/8″x3/4″ Dwyer 1.0 Gal. per Pulse Brass Multi-Jet Water Meter |